Bismillahirrahmanirrahim - in the name of Allah, Most Gracious, Most Merciful.
Salam 'alaykum,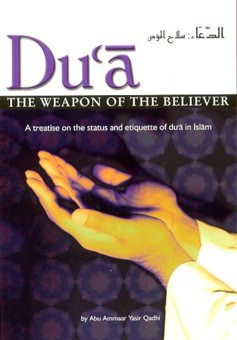 Du'a itu ibadah yang afdhal, which means most superior. Du'a is also the most powerful
weapon of a BELIEVER.
(Ghafir:60) maksudnya: "Dan Tuhan kamu berfirman: "Berdu'alah kamu kepadaKu nescaya Aku perkenankan du'a permohonan kamu. Sesungguhnya orang2 yang sombong penuh takbur daripada beribadah dan berdu'a kepadaKu, akan masuk neraka jahanam dalam keadaan yang hina."
(Ar-Rahman:29) maksudnya: "Sekalian makhluk yang ada di langit dan di bumi sentiasa berhajat dan memohon kepadaNya. Tiap2 masa ia di dalam urusan (mencipta dan mentadbir makhluk2Nya)"
Maka ingatlah kamu du'amu jangan putus biar apa jua pun keadaanmu itu:
(Al Baqarah:45,46) maksudnya: "Dan mohonlah pertolongan kepada Allah dengan sabar dan solat. Dan solat itu sungguhlah berat, kecuali bagi orang2 yang khusyuk, iaitu mereka yang yakin bahawa mereka akan menemui Tuhannya dan bahawa mereka akan kembali padaNya."